This is a discussion topic for the Ore project, LuckHolders2. View the full project on Ore for downloads and more information.
---
LuckHolders2
This plugin is continuation for LuckHolders,
Because creating the plugin?
When LuckPerms update v.5.x (Dec 28, 2019) the API change and not compatibility for v.4 API.
LuckHolders use v.4 and LuckHolders2 use v.5.
Since it didn't have a source code public, i did it from 0.
If you need v.4 API use LuckHolders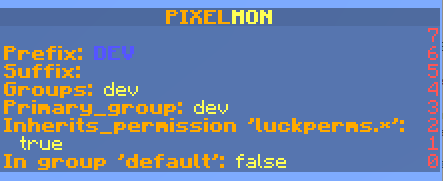 Dependency
LuckPerms. Github luckperms
PlaceholderAPI Ore page
Placeholders
Please report any bug you can find in Official wiki placeholders luckperms
Bugs
Please report any bug you can find in Github issue tracker
Discord
My plugins discord (spigot and sponge): Matahombress plugins