This is a discussion topic for the Ore project, Mirage. View the full project on Ore for downloads and more information.
---
Mirage
Presentation
Mirage protects your server against xray mods and packs. How does it work? Mirage modifies the packets before they are sent to the players to prevent malicious users from viewing hidden ores in your world. In addition to the wonderful features of the project, this plugin includes a unique technology (Dynamism) to make ores appear or disappear depending on the distance to the player. This plugin aims to be highly configurable, efficient and fast. In addition to being a powerful protection, Mirage can be used by developers as a powerful tool to make appear fake giant structures. This feature gave the project its name.
The jar file must be at the root of the mods/ folder, not in mods/plugins/ or any sub folder!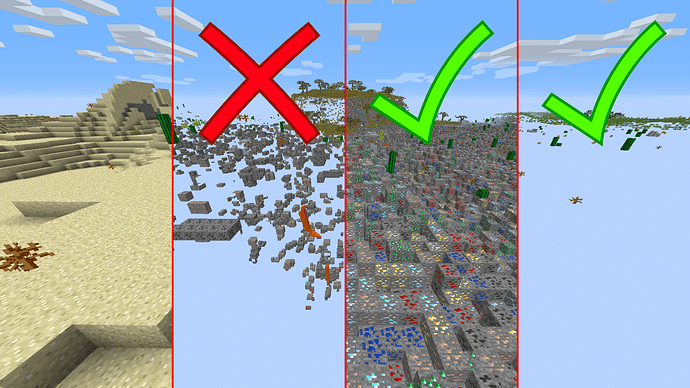 Configuration
Mirage will generate an optimized configuration for each dimension. These configurations might be modified to disable the plugin in a specific world, to modify the set of ores that will be hidden or even to modify the modifier itself. Configuration files can be found in the config/mirage/configs/ folder and are well documented to help you find your way but for more information, open this page: Configuration.
Modifiers
In this plugin, a modifier is an algorithm used to modify data sent to players. Mirage provides an API to create and register your own modifiers but by default 5 modifiers are included in this plugin. For more information about how to use and configure these modifiers, open this page: Modifiers.
Dynamism
Dynamism (aka dynamic obfuscation) allows the modifiers to specify that some blocks are only visible if the player is close enough. Dynamism is very optimized, this allows to hide small structures like a spawner or very big ones such as a water dungeon without causing lags. For example, if you're using the default configuration, the water dungeons will gradually appear as the player approaches. The required distance is configured to not impact the gameplay but only xray users.
Updates
Mirage automatically connects to the Ore repository to check for updates. By default, the console and all players having the permission mirage.update.notify will be notified when an update is available but it can be disabled by editing the following configuration file: config/mirage/update.conf.
I can still see ores. What should I do?
By default, Mirage uses the hide_obvious modifier. This hides most ores, but ores that are next to air must stay visible for legit users. That's why you can see some of them. If you want a stronger protection, you can instead use the random_block modifier by modifying the configuration, however it might affect performance.