So I inherited your interfaces so you can interface while you inherit.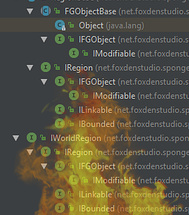 How gravity sees it.
See why monomorphism is again becoming a thing?
Pfft they are interfaces.
You are either going to end up with heaps of interfaces, or worse, duck typing.
What if i made an interface for every method?
WHAT IF I MADE INTERFACES THAT JUST EXTEND EVERY COMBINATION OF OTHER INTERFACE?