So, when i boot the server up it gives me the error [Server thread/ERROR] [minecraft/MinecraftServer]: Encountered an unexpected exception
java.lang.RuntimeException: derp.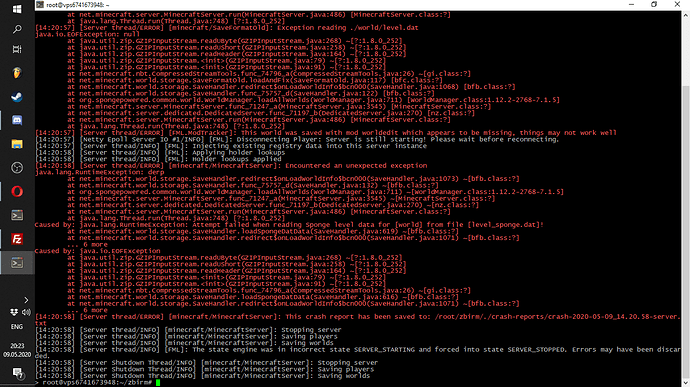 Crash log:
---- Minecraft Crash Report ----
WARNING: coremods are present:
SpongeCoremod (aaaaspongeforge-1.12.2-2768-7.1.5.jar)
ForgelinPlugin (Forgelin-1.8.4.jar)
ObfuscatePlugin (obfuscate-0.2.7-1.12.2.jar)
MovingWorldCore (movingworld-1.12-6.342-full.jar)
Contact their authors BEFORE contacting forge
// Everything's going to plan. No, really, that was supposed to happen.
Time: 5/9/20 2:20 PM
Description: Exception in server tick loop
java.lang.RuntimeException: derp
at net.minecraft.world.storage.SaveHandler.redirect$onLoadWorldInfo$bcn000(SaveHandler.java:1073)
at net.minecraft.world.storage.SaveHandler.func_75757_d(SaveHandler.java:132)
at org.spongepowered.common.world.WorldManager.loadAllWorlds(WorldManager.java:711)
at net.minecraft.server.MinecraftServer.func_71247_a(MinecraftServer.java:3545)
at net.minecraft.server.dedicated.DedicatedServer.func_71197_b(DedicatedServer.java:270)
at net.minecraft.server.MinecraftServer.run(MinecraftServer.java:486)
at java.lang.Thread.run(Thread.java:748)
Caused by: java.lang.RuntimeException: Attempt failed when reading Sponge level data for [world] from file [level_sponge.dat]!
at net.minecraft.world.storage.SaveHandler.loadSpongeDatData(SaveHandler.java:619)
at net.minecraft.world.storage.SaveHandler.redirect$onLoadWorldInfo$bcn000(SaveHandler.java:1071)
… 6 more
Caused by: java.io.EOFException
at java.util.zip.GZIPInputStream.readUByte(GZIPInputStream.java:268)
at java.util.zip.GZIPInputStream.readUShort(GZIPInputStream.java:258)
at java.util.zip.GZIPInputStream.readHeader(GZIPInputStream.java:164)
at java.util.zip.GZIPInputStream.(GZIPInputStream.java:79)
at java.util.zip.GZIPInputStream.(GZIPInputStream.java:91)
at net.minecraft.nbt.CompressedStreamTools.func_74796_a(CompressedStreamTools.java:26)
at net.minecraft.world.storage.SaveHandler.loadSpongeDatData(SaveHandler.java:616)
… 7 more
A detailed walkthrough of the error, its code path and all known details is as follows:
– Head –
Thread: Server thread
Stacktrace:
at net.minecraft.world.storage.SaveHandler.redirect$onLoadWorldInfo$bcn000(SaveHandler.java:1073)
at net.minecraft.world.storage.SaveHandler.func_75757_d(SaveHandler.java:132)
– Sponge PhaseTracker –
Details:
Phase Stack: [Empty stack]
Stacktrace:
at net.minecraft.server.MinecraftServer.handler$onCrashReport$zjm000(MinecraftServer.java:3973)
at net.minecraft.server.MinecraftServer.func_71230_b(MinecraftServer.java:889)
at net.minecraft.server.dedicated.DedicatedServer.func_71230_b(DedicatedServer.java:371)
at net.minecraft.server.MinecraftServer.run(MinecraftServer.java:558)
at java.lang.Thread.run(Thread.java:748)
– System Details –
Details:
Minecraft Version: 1.12.2
Operating System: Linux (amd64) version 2.6.32-042stab127.2
Java Version: 1.8.0_252, Private Build
Java VM Version: OpenJDK 64-Bit Server VM (mixed mode), Private Build
Memory: 315488056 bytes (300 MB) / 888143872 bytes (847 MB) up to 954728448 bytes (910 MB)
JVM Flags: 1 total; -Xmx1024M
IntCache: cache: 0, tcache: 0, allocated: 0, tallocated: 0
FML: MCP 9.42 Powered by Forge 14.23.5.2847 48 mods loaded, 48 mods active
States: 'U' = Unloaded 'L' = Loaded 'C' = Constructed 'H' = Pre-initialized 'I' = Initialized 'J' = Post-initialized 'A' = Available 'D' = Disabled 'E' = Errored
| State  | ID                                           | Version                | Source                                                | Signature                                |
|:------ |:-------------------------------------------- |:---------------------- |:----------------------------------------------------- |:---------------------------------------- |
| LCHIJA | minecraft                                    | 1.12.2                 | minecraft.jar                                         | None                                     |
| LCHIJA | mcp                                          | 9.42                   | minecraft.jar                                         | None                                     |
| LCHIJA | FML                                          | 8.0.99.99              | Forge.jar                                             | None                                     |
| LCHIJA | forge                                        | 14.23.5.2847           | Forge.jar                                             | None                                     |
| LCHIJA | spongeapi                                    | 7.1.0-366290f8         | aaaaspongeforge-1.12.2-2768-7.1.5.jar                 | None                                     |
| LCHIJA | sponge                                       | 1.12.2-7.1.5           | aaaaspongeforge-1.12.2-2768-7.1.5.jar                 | None                                     |
| LCHIJA | spongeforge                                  | 1.12.2-2768-7.1.5      | aaaaspongeforge-1.12.2-2768-7.1.5.jar                 | None                                     |
| LCHIJA | com.elytradev.movingworld.common.asm.coremod |                        | minecraft.jar                                         | None                                     |
| LCHIJA | obfuscate                                    | 0.2.7                  | minecraft.jar                                         | None                                     |
| LCHIJA | infinitylib                                  | 1.12.2-1.12.0          | infinitylib-1.12.0.jar                                | None                                     |
| LCHIJA | agricraft                                    | 2.12.0-1.12.0-a6       | AgriCraft-2.12.0-1.12.0-a6.jar                        | None                                     |
| LCHIJA | bard_mania                                   | 0.15.0-alpha           | bard-mania_1.12.2-0.15.0-alpha.jar                    | 999640c365a8443393a1a21df2c0ede9488400e9 |
| LCHIJA | forgelin                                     | 1.8.4                  | Forgelin-1.8.4.jar                                    | None                                     |
| LCHIJA | betterrecords                                | unspecified            | BetterRecords-1.12.2-1.6.2.jar                        | None                                     |
| LCHIJA | catclearlag                                  | 0.9.0                  | CatClearLag-0.9.0.jar                                 | None                                     |
| LCHIJA | teastory                                     | 3.3.3-B32.404-1.12.2   | TeaStory_3.3.3_B32.404_1.12.2.jar                     | None                                     |
| LCHIJA | coffeework                                   | 1.2.9                  | CoffeeWorkshop_V1.2.9_MC1.12.2.jar                    | None                                     |
| LCHIJA | cosmeticarmorreworked                        | 1.12.2-v5              | CosmeticArmorReworked_1.12.2_v5.jar                   | aaaf83332a11df02406e9f266b1b65c1306f0f76 |
| LCHIJA | modcurrency                                  | 1.12-1.3.11            | Currency-1.12.0-1.3.11.jar                            | None                                     |
| LCHIJA | customnpcs                                   | 1.12                   | CustomNPCs_1.12.2-(01Oct19).jar                       | None                                     |
| LCHIJA | movingworld                                  | 1.12-6.342             | movingworld-1.12-6.342-full.jar                       | None                                     |
| LCHIJA | davincisvessels                              | @DVESSELSVER@          | davincisvessels-1.12-6.337-full.jar                   | None                                     |
| LCHIJA | doggytalents                                 | 1.15.1.5               | DoggyTalents_1.12.2_1.15.1.5.jar                      | None                                     |
| LCHIJA | griefprevention                              | 1.12.2-4.3.0.689       | griefprevention-1.12.2-4.3.0.689.jar                  | None                                     |
| LCHIJA | growthcraft                                  | 4.1.3.200              | growthcraft_1.12.2_4.1.3.200.jar                      | None                                     |
| LCHIJA | growthcraft_apples                           | 4.1.3.200              | growthcraft_1.12.2_4.1.3.200.jar                      | None                                     |
| LCHIJA | growthcraft_fishtrap                         | 4.1.3.200              | growthcraft_1.12.2_4.1.3.200.jar                      | None                                     |
| LCHIJA | growthcraft_bamboo                           | 4.1.3.200              | growthcraft_1.12.2_4.1.3.200.jar                      | None                                     |
| LCHIJA | growthcraft_cellar                           | 4.1.3.200              | growthcraft_1.12.2_4.1.3.200.jar                      | None                                     |
| LCHIJA | growthcraft_bees                             | 4.1.3.200              | growthcraft_1.12.2_4.1.3.200.jar                      | None                                     |
| LCHIJA | growthcraft_hops                             | 4.1.3.200              | growthcraft_1.12.2_4.1.3.200.jar                      | None                                     |
| LCHIJA | growthcraft_rice                             | 4.1.3.200              | growthcraft_1.12.2_4.1.3.200.jar                      | None                                     |
| LCHIJA | growthcraft_milk                             | 4.1.3.200              | growthcraft_1.12.2_4.1.3.200.jar                      | None                                     |
| LCHIJA | growthcraft_grapes                           | 4.1.3.200              | growthcraft_1.12.2_4.1.3.200.jar                      | None                                     |
| LCHIJA | jjcoa                                        | 1.0.10                 | JJCoatsofArms1.12_1.12.2_v1.0.10.jar                  | None                                     |
| LCHIJA | luckperms                                    | 5.0.39                 | LuckPerms-Sponge-5.0.39.jar                           | None                                     |
| LCHIJA | mcwwindows                                   | 1.0                    | mcw_windows_1.0.0_mc1.12.2.jar                        | None                                     |
| LCHIJA | naturaldecormod                              | 1.2                    | NaturalDecorMod1.3.jar                                | None                                     |
| LCHIJA | nucleus                                      | 1.14.4-S7.1            | Nucleus-1.14.4-S7.1-MC1.12.2-plugin.jar               | None                                     |
| LCHIJA | variedcommodities                            | 1.12.2                 | VariedCommodities_1.12.221nov19.jar                   | None                                     |
| LCHIJA | wearablebackpacks                            | 3.1.0                  | wearable-backpacks-mod-1_12_2.jar                     | None                                     |
| LCHIJA | drplibrary                                   | 1.12.2-0.1.3-SNAPSHOT  | drplibrary-1.12.2-0.1.3-SNAPSHOT-20190129.034240.jar  | 893c317856cf6819b3a8381c5664e4b06df7d1cc |
| LCHIJA | drpcmblueprints                              | 1.12.2-1.2.3           | drpcmblueprints-1.12.2-1.2.3.jar                      | 893c317856cf6819b3a8381c5664e4b06df7d1cc |
| LCHIJA | drpcmmaarg                                   | 1.12.2-0.10.0-SNAPSHOT | drpcmmaarg-1.12.2-0.10.0-SNAPSHOT-20181116.074036.jar | 893c317856cf6819b3a8381c5664e4b06df7d1cc |
| LCHIJA | drpcmguis                                    | 1.12.2-0.0.2-SNAPSHOT  | drpcmguis-1.12.2-0.0.1-SNAPSHOT-20181125.120253.jar   | 893c317856cf6819b3a8381c5664e4b06df7d1cc |
| LCHIJA | drpcore                                      | 1.12.2-0.4.7           | drpcore-1.12.2-0.4.8.jar                              | 893c317856cf6819b3a8381c5664e4b06df7d1cc |
| LCHIJA | drpcmlocks                                   | 1.12.2-1.0.1           | drpcmlocks-1.12.2-1.0.0-SNAPSHOT-20181126.111203.jar  | 893c317856cf6819b3a8381c5664e4b06df7d1cc |
| LCHIJA | drpmedieval                                  | 1.12.2-0.3.6           | drpmedieval-1.12.2-0.3.6.jar                          | None                                     |

Loaded coremods (and transformers): 

SpongeCoremod (aaaaspongeforge-1.12.2-2768-7.1.5.jar)
org.spongepowered.common.launch.transformer.SpongeSuperclassTransformer
ForgelinPlugin (Forgelin-1.8.4.jar)
ObfuscatePlugin (obfuscate-0.2.7-1.12.2.jar)
com.mrcrayfish.obfuscate.asm.ObfuscateTransformer
MovingWorldCore (movingworld-1.12-6.342-full.jar)
Profiler Position: N/A (disabled)
Player Count: 0 / 40; []
Is Modded: Definitely; Server brand changed to 'fml,forge,sponge'
Type: Dedicated Server (map_server.txt)