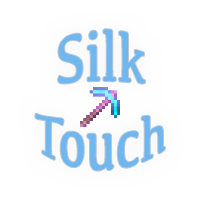 SilkTouch is a very simple to use plugin. It allows a tool with the Silk Touch enchantment to break more items! (sorry for the terrible graphic - I made it in about 40 seconds)
Download
You can download SilkTouch from the Releases section on the GitHub page.
Issues, Ideas, and Help
If you have any issues, ideas, or need help please open an issue on the GitHub page.
Configuration
The configuration file is found in config/net.redstoneore.silktouch/config.json. This is a JSON file, so be sure to run it through a JSON validator before putting it on your server.
// Should permission be required?
"requirePermission": false, 

// Which blocks should SilkTouch be enabled for? (add more items at will)
"enableSilkTouchFor": [
  "minecraft:mob_spawner",
  "minecraft:cake"
]

Permissions
silktouch.item replacing item with the item name - e.g. silktouch.minecraft:mob_spawner
Your server can only use permissions if you have requirePermission set to true in the configuration file. If you do this only items listed in enableSilkTouchFor can be used if the player has the correct permission.
Commands
There are no commands (yet).