Hello,
My main goal is to develop plugins for Sponge however I want to build Sponge from source.
I want to build most recent stable version and I have some questions.
What this number means?
When I build Sponge I get 0.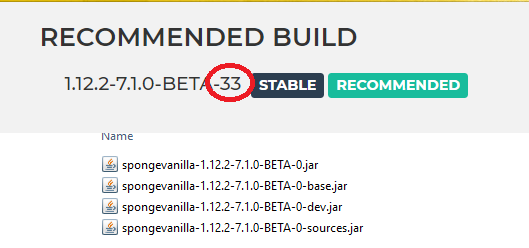 How can I build Sponge to get recommended version? (1.12.2-7.1.0-BETA-33 now)
These are the steps I take:
git clone --recursive https://github.com/SpongePowered/SpongeVanilla.git
cd SpongeVanilla
git submodule foreach --recursive git checkout stable-7
git checkout stable-7
./gradlew setupDecompWorkspace --refresh-dependencies
./gradlew
What steps Sponge Devs makes to build official release?
What difference is between setup(Decomp, Dev, CI)Workspace? (I would like to note here that only "Decomp" works for me, other options fail)