As many of you may recall, our last SoS demonstrated Sponge running on 1.15.2. Unfortunately, breaking issues were later discovered, necessitating a change of target to 1.16.5. Subsequently, excellent progress has been made, and SpongeVanilla for 1.16.5 in late development stages. The API will be frozen soon, but as both the server and client implementations run, it's advised plugin developers to start reading through the API to update, but note some slight changes may still come over the next few weeks.
In a significant development for future updates, VanillaGradle has been released, allowing for SpongeVanilla to be built using Official mappings. Importantly, this allows for development to take place on Snapshot builds, which allows our developers to get ahead of the upgrade cycle for the first time.
This will allow for us to develop and test the Implementation and API much more thoroughly before new releases, in fact we've already got it working on 1.17 snapshots! Of course, the focus remains on 1.16.5 but we thought you might like to see a demonstration of our new system in action: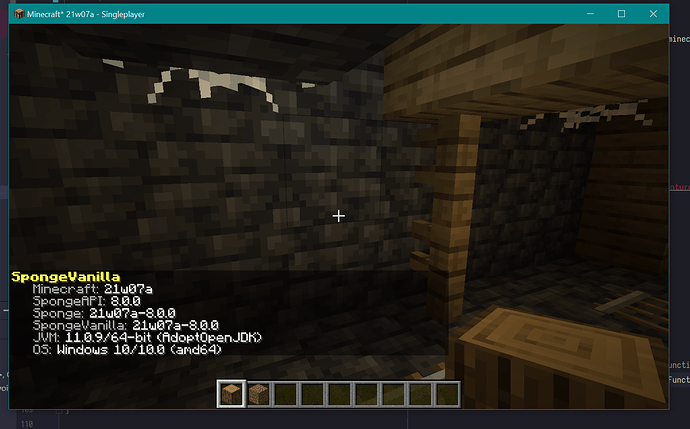 With this change, SpongeVanilla's build chain is independent of any 3rd party platform going forward. This gives the Sponge team the liberty of updating to a new version out our own leisure and not beholden to an upstream toolchain to do so. Snapshot releases are presently only being used for development towards future major releases and will not be available or supported as standalone downloads.
Ore & Downloads:
As many of you would be aware, our current download system has encountered some issues and is in need of an overhaul. Thankfully, the wonderful @gabizou has been hard at work on System of a Download, which we plan to have in place alongside the release of our 1.16 builds.
In a change of policy, the Ore review system will be changed from the current approval-based system, to the Community Reporting System, whereby we will provide a mechanism for the community to flag content that may be malicious and/or violate the TOS. As part of this, we will be removing the click-through warning that currently exists on unverified downloads and replace it with a banner disclaimer.
Importantly, this change means that our community will have even more input on these matters and we hope that you will help others by flagging that may cause harm. The exact design of this system is still under consideration, but we will keep you informed as it develops.
In addition, development on Ore API v2 is proceeding, with a focus on ensuring stability of the new system.
Documentation:
There are many, many changes between SpongeAPI 7 and SpongeAPI 8 that need to be detailed. Some draft documents are already in preparation, but many more will be needed when the API is finalized. For now, the best reference is the JavaDocs, but PRs for the API 8 docs are welcome.
Concurrently, the SpongeDocs have migrated from using a Jenkins instance, and now use Github actions. This makes our build processes more streamlined and manageable, but should have little effect on users or PR submissions. Many thanks are due to @felixoi and our sysadmins for their scrupulous efforts to bring this to fruition. We're pretty sure it's working OK, but if you do spot something weird or wrong, please let us know so we can get it fixed.
Block19 & Royale:
Thanks to the wonderful @Grinch, Block19 is back up and running on 1.16.5! It is also running a large suite of API-8 compatible CubeEngine plugins, thanks to the hard work and generosity of developer Faithcaio. Check out the new Sponge Community Server at demo.spongepowered.org. Note that we're running an in-dev version of SpongeVanilla, so there may still be minor bugs and issues to resolve.
To put our latest version through its paces, we're going to be hosting a special Royale battle event on April 3rd. Join us on the Block19 Server and Twitch (Twitch) at 21:00UTC