What a year it's been, 2017 has seen the release of SpongeAPI 6 and the imminent release of API 7 thanks to the hard work of our fantastic development team. Our team has also been working steadily on a range of performance and feature improvements that will be folded into our upcoming 1.12/API 7 releases. We've also taken a few more staff under our banner, including Meronat (Dev), Vectrix (Mod staff), and the new Issue Wranglers ryantheleach and phit. Welcome aboard!
Once again, a huge thanks to our awesome SpongeDocs team, who have once again delivered some of the most comprehensive documentation that you will see on any Minecraft project. Our translators on Crowdin have made great efforts to spread the word of Spongie far and wide, making it much easier for our non-english speaking friends to join in on all the fun!
As we look forward to 2018, we have several items to look forward to:
Minecraft 1.13 snapshots are already available, as such we are making sure to prepare for what the future may bring with regards to both our API and Implementations.
After a good few years of development, we believe that Ore is ready for prime time in 2018. We will be transitioning all plugins off our existing subforums over to Ore. Stay tuned for our upcoming announcement on the transition process next month.
Development Retrospective: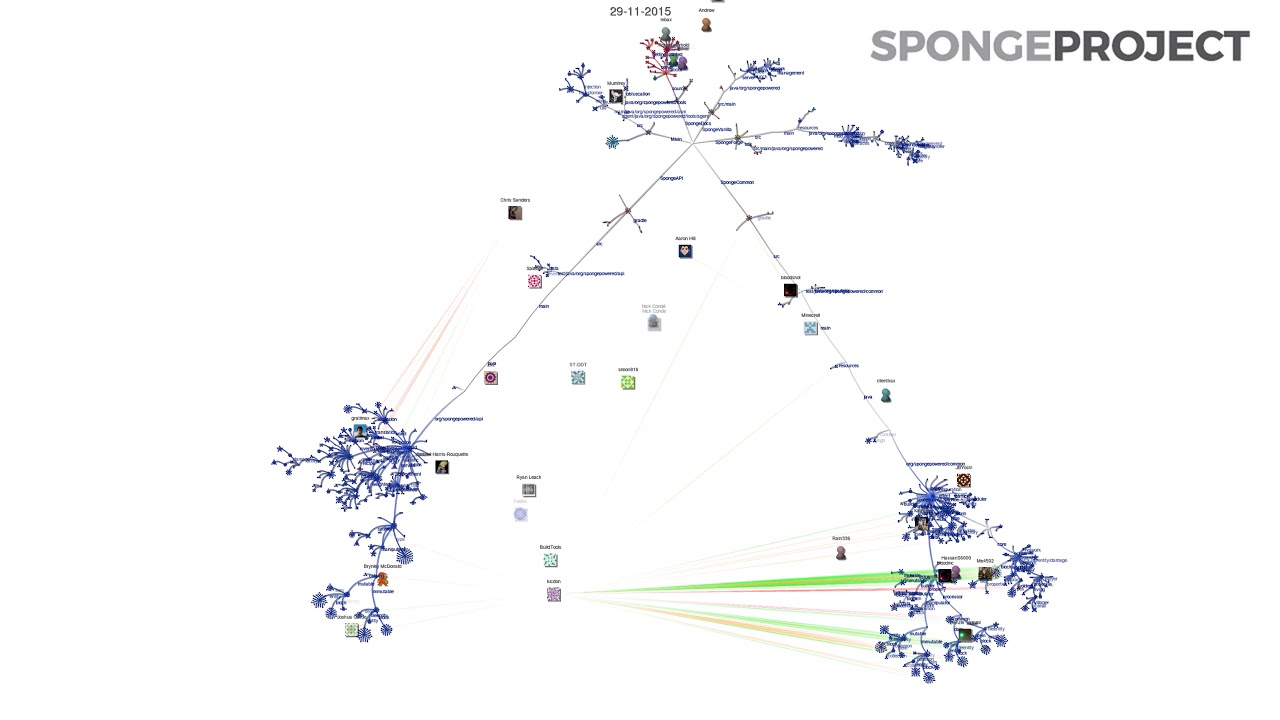 Developer Update
SpongeAPI 7
Our hardworking dev team has been busy adding to and improving SpongeAPI to increase usability and to prepare for the future. API 7 will bring a suite of changes including to Cause Tracking, the Permissions API and several other areas.
How will it affect existing/new plugins?
These changes will break compatibility with some plugins designed for API 6, so please be on the lookout in case your plugin needs updating.
Sponge API 8 (and beyond!)
Sponge API 7 might not be out just yet, but while we wrap up these changes, we're already planning for the next major revision for Sponge API, API 8. One of the biggest changes for API 8 is the future of the Commands API, where we propose replacing our current Commands API for something that is more flexible and will enable features such as the Conversation API and integration with Brigadier, Minecraft's command library for 1.13.
We've created a post on the forums that we invite all developers to go look at to see how we envisage the commands API with rationale and examples - we'd like you to get involved with your feedback and comments. It is an important discussion on the Future of Commands, so please join us with helping to shape the next generation commands API, click here and make your voices heard!
Sponge Implementations
For those of you not in the know, we will be dropping support for SpongeForge and SpongeVanilla on Minecraft 1.10.2 and 1.11.2 on the 31st of December. This will allow for more developer time to be dedicated to the upcoming release of API 7 for 1.12.2. Additionally this will enable us to focus on the future of Minecraft, especially with the technical changes underway in version 1.13.
To read more about this change:
LanternPowered
Our friends over at LanternPowered have been developing an open-source Minecraft server implementing SpongeAPI. Their outside perspective has been useful in enabling us to develop SpongeAPI further. Here's a little Status Update from them:
Since the last update a few major features were implemented. The first one was crafting and smelting, but a lot of recipes are yet to be added. The second one was the damage and food system, which means that you can now die (hopefully not on purpose) and you have to eat food to survive. Not all the damage types are there, but it's a big step forward.
Most of the other changes were technical, mainly to keep up with the SpongeAPI. One of them was cause tracking, which we were eagerly waiting for in order to get tracking implemented in Lantern. Another one was the rewrite of the inventory implementation to support the inventory archetypes.
A lot of features are on hold while we are waiting for 1.13, there is already a branch for the latest snapshots. In the meantime we will continue to help work on SpongeAPI to better prepare for the coming Minecraft version.
Docs Update
At last, we have a LICENSE! SpongeDocs now has the shiny CC-BY-SA 4.0 licence logo. After many months of notice, we purged our Sponge Crowdin pages of unlicensed translations. We're sorry to have to lose so many old contributions, but it has spurred a rapid expansion in several languages, and closer interaction with many of the translation teams. Big thanks to all translators for your patience and continuing efforts.
Long-time editor Tzk hasn't been involved for many months, and has been retired. We thank ST-DDT for stepping up and getting many things done, as well as the slew of other contributors. New contributions are always welcome from across the Sponge community and beyond. Several PRs are waiting for API 7 to release (when we'll retire the API 4 docs).
State of Sponge XV
There'll be plenty of reasons to celebrate as 2017 draws to a close, so we'll be making our contribution with the last SoS of the year! We'll be streaming from the server stage, so join the Sponge Community Server if you want a front row seat. Come join us at 21:00 UTC on the 30th of December for an informative, possibly quirky and certainly fun livestream from the Sponge Devs and Staff. We want to know what you'd like to hear, so be sure to leave any questions or suggestions for us below!
We'll be streaming at: Twitch