anyway you can make this work with worldedit?
mmhh, not sure I will have enought time for that, but I will put it on my to do list
Upon loading this plugin on my server, my players weren't allowed to open their chests anymore, (along with the item frames and npcs being gone as someone else said) is there a global region that would have that as a default flag or something? (Note: I was able to open chests fine but I assume it's because I could bypass it or something)
Atm there are a few issues with permissions that will be solved in the next update, and yes, there is a global region, look for the coomand list to edit it.
I can not select 2 points to claim
plugin: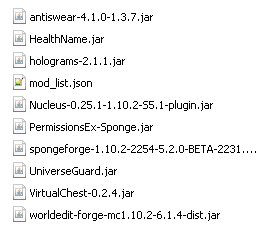 video:
Wait for update plugin. Forge 2254 not support at now.
I think the crash issue is not thsi plugin, and you use the false method to claim the region, please read the "how to use" part of this post.
Im working on it, but im a bit busy this month, sorry
Hello, I'm back to report I've dealt with the accident. Thanks for the reply
This keeps spamming my console. Not sure if its the plugins fault or sponges fault.
Ok, thanks for the report, can you eventually say me wht was the problem?
It's aproblem of this plugin, will fix this too with the next update, thanks for the report
I'm not sure, I deleted the worldedit and upgraded the sponge to the current latest version (2236)
Ok, thanks, than I suppose that the problem was worldedit and not the sponge version
I get an error. I'm using the latest version of the plugin
I still have not used any functions from the plugin but still have errors
mmhh, will add this to the fixes for the next version, and srry for the dealy but I haven't much time atm to work on the plugin
Download link doesn't work.

Thanks. It works now.