This is a discussion topic for the Ore project, PetBlocks. View the full project on Ore for downloads and more information.
---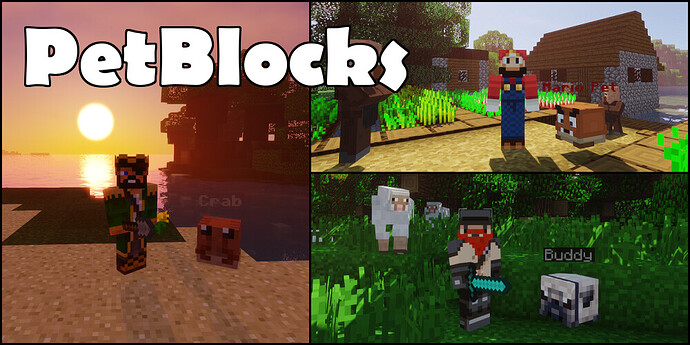 What's PetBlocks?
PetBlocks is a spigot and also a sponge plugin to use blocks and custom heads as pets in Minecraft.
In cooperation with Minecraft-Heads.com

Like PetBlocks?
What information can I find here?
Features
Videos
Installation
Commands
Config
Where can I find the PetBlocks wiki?
https://shynixn.github.io/PetBlocks/
Where can I donate and support the developer?
Where can I find the PetBlocks Discord?
Invite: Shynixn
Pet Features
Adds a new pet to every player
Simple GUI navigation to customize your pet
Use blocks or custom heads as skins for your pet
Use ais to change the behaviour of your pet
Supports custom models
Add a particle effect to your pet
Rename your pet
… and a lot more
Config Features
GUI is completely customizeable
Add new skins (supports skin-urls)
Change ais
Add new particles
Supports MySQL
Supports cross server pets
… and a lot more
Video
Installation
Download the plugin PetBlocks
Put the plugin into your mods folder
Read the "Getting Started section"
Start the server (Sponge 1.12.0-1.12.2)
Join and play by typing /petblock
Commands
/petblock - Opens the PetBlock GUI
/petblock toggle - Activate or deactivate your pet
/petblock call - Teleports the pet to your player
/petblock rename - Changes the name of the pet
/petblock skin - Changes the skin of the pet
/petblocks - Administration commands
/petblockreload - Reloads config.yml
Config
Customize your GUI
Change sounds/behaviour
Change messages
Customize skins and particles
MySQL Configuration
External Connections
You can find all information how to enable or disable external connections of PetBlocks on this page.