DISCLAIMER - AUTHOR CANNOT SUPPORT THIS PLUGIN FOR LONG PERIOD OF TIME ANYMORE. My apologizes.
Hello! If you are looking for Every Day Rewarding System for your players, congrtulations - you found it!
Let me introduce DailyRewards plugin - automatic (or semiautomatic, if you need) system, that rewards your players for logging in every day with absolutely custom rewards. You can create rewards for any day in a row, every day is configurable!
Latest releases: here
Source: there
HOW TO USE
First of all, you must drop jar file to your mods directory.
Then, after first start, you must find config file in config/DailyRewards directory. There you will find descriptions for every string, so I hope you will configure plugin without any problems.
When all your rewards are ready and tested, your will be something like that: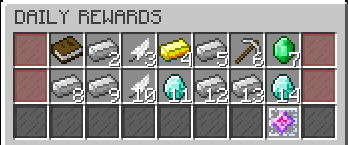 The time will start from first config creation moment, but if you want to start from another time, you can use /dr clear command to create another start point! Every 24 hours all players can take their reward again and continue their row. Ofc, players can take their reward only 1 time in a day.
Finally, you can translate messages in another config if you need.
Commands(/dailyreards):
/dr take - players execute this when press the button. Takes reward and move you to the next day
/dr show - shows again reward gui
/dr clear - move server to the next day and set new time starting point. All players can take rewards again.
/dr reload - reloads plugin! Yep, you can change rewards when you need it.
/dr set day/status "day_number"/"true"(taken)/"false"(not taken) "player" - edit info about player's status and day
/dr info "player" - shows info about player's status and day number
Permissions:
dailyrewards.base - /dr take and /dr show
dailyrewards.admin - /dr clear and /dr reload
Feautures:
Custom rewards for every day!
Three rewards types - ITEM, COMMAND and MONEY reward
Any amount of different types of rewards for any day!
You can create empty days without reward if you need!
Special Inventory GUI for Daily Rewards!
Customizable icons for you rewards!
Different mods for rewards (push player back to the first day if he missed one day or not)
And yep, plugin can be a little buggy, so if you will find something bad - contact me on GitHub, i'll fix it!