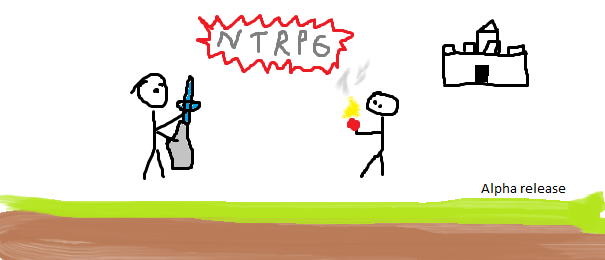 ---
Project moved to ore library. https://forums.spongepowered.org/t/nt-rpg-plugin-which-brings-rpg-features-into-minecraft
The plugin adds new mechanics to minecraft combat (pvp/pve).
The main concept is similar to the most of recent mmo games. Players are able to choose between different classes with different skills, races or create guilds…and also kill each other in many various ways.
For killing mobs players gain experiences and levels. For each level player can gain some skill points and some attribute points which can be used for learning new skills, upgrading skills, or for upgrading player's attributes such as damage, mana, health.
As an administrator you have to take care of a game desingn. This means before you can start playing you have to create classes, skilltrees and races which your players can choose. This is done by creating simple configuration files. Each class and race can have its own advantages and penalities. Some groups might have bonus to mana regeneration, while others will deal more damage with axes. Each class can also have a skilltree. For each skill you can define its connection to other skills in the tree and how much will the skill change when a player deciedes to spend some skillpoints.
If you are a developer the plugin has a modular skill system and easy to use api. You can either write new skills with javascript or with java. If you would like to see some examples check wiki or decompile (im very lazy person and i have not setup github repo for skill examples) Skills jar which you can grab from the releases on github.
Plugin installation is not plug and play. Please read the wiki where you can find detailed guide how to setup Hibernate. Any sql database is required.
Todo list is quite huge so i will write here only points which i want to solve in near future.
Gameplay stuff
The main point is to create inventory menus (for now all messages are displayed into player chat, and its not possible to display skilltrees at all, i havent found a way how to make even huge skilltree readable in the chat. This feature is currently on hold until inventory api si released.
client side guis
Guilds - allow players to create guilds, i will probably hook this feature into one or more town plugins such as Polis, Towny (in a case it will be ported) or Mytown 2
Custom enchantments, skill binds (skills executable from hotbar) - Also on hold until inventory api is realeased
more
Technical stuff

Setup second level cache for Hibernate
---

source code

download

wiki
---
Dependencies:
Spongeforge 976+

NTCORE (contains Hibernate)

GNU GPL V3

source code + download