In our last update, 2 weeks ago, we gave notice to the recent release of public dev-builds for the Forge implementation of the SpongeAPI, Sponge. At that time, a few awesome plugins had been released, showcasing the enthusiasm our community has for the platform. We were shocked then, and we're shocked even more as the releases have been rolling in ever since!
So many releases, in fact, we had to create a Plugin Releases sub-forum. We've seen releases ranging from an awesome Chat Plugin, to an inspiring Email/SMS Relay.
Keep them coming, folks! We're watching, and we love every single one of them.
Sponge Development Status
SpongeCommon has gained a lot of traction since its creation – every addition to Common now provides the very same implementation to both Sponge and SpongeVanilla! Recently, Data API implementation has been refined and most recently, HealthData has been implemented!


With the size of Data API, it will be some time before all of the DataManipulators are implemented, but if you find a DataManipulator lacking implementation, feel free to make an attempt to implement the utilities and submit a PR!
Other parts of the implementations are needing help too!
Event generation has been significantly refined for further customization and toString is now properly implemented.
A factory has been created in the API for the creation of the vanilla populators which can then be used by a plugin for creating custom world generators which still have similar elements to those of vanilla.
SpongeDocs Status
All hands on deck, and hoist the Jolly Roger, for the ship o' Sponge is setting full sail for world domination! An incredible influx of new manuscripts charting the heretofore unknown waters of the Sponge 2.1-SNAPSHOT API have illuminated our great library as never before.
We still await some important explanations, but we're now racing neck-and-neck with the implementation(s) in some places. We hope there's enough there now for up-and-coming plugin developers to jump in and get your … brains dirty?
There's also new stuff on the breakdown of Sponge into SpongeCommon and the two implementations, our forum rules and posting guidelines, up-to-date details on Java versions, links to the JavaDocs, IDE debugging tips, and especially hidden FLARD.
More contributors are always welcome; there are many issues yet to be wrangled and tamed. Join us on the IRC channel, #spongedocs, and join in the high-calibre intellectual repartee, or just talk nonsense like the rest of us.
Thanks to our valiant contributors @boformer, @saladoc, @tzk, @FerusGrim, @Zirconium, @ryantheleach and plenty of others, without whom you would probably be reading something else.
Minecon
Minecon Panel Submissions have now closed, but don't worry, we've already put our submission in! Thanks to a lot of hard work by @Mumfrey in both creating our fancy Pitch Video and coercing team members into actually recording their segments.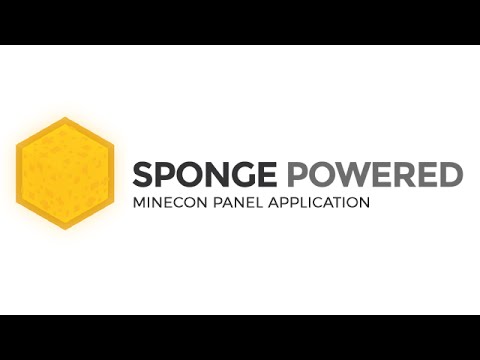 The full details of our Panel Submission are as follows:
Panel Title:
A New Era of Modding: Sponge and Forge
Panel Description:
The SpongePowered Team would like to present Sponge as the upcoming replacement for the now inactive Bukkit API. Our team comprises of developers and staff from all corners of the community including Bukkit, Cauldron, Forge and Spout.
We want to present and explain Sponge, detailing the road travelled, how Sponge changes modding going forward, and why we have the development community's support.
We will showcase the Sponge API, Sponge server, server performance, example plugins, and how to get started writing plugins on the Sponge platform.
We have also had prior experience presenting to public audiences with our State-of-Sponge live streams.
We have made considerable progress on the Sponge project since we started in September, having released publicly available Development Builds. We hope to be able to announce our first full release at Minecon.
Panelists:
@AzureusNation - SpongeVanilla Developer.
@gratimax - Web Development Lead. Sponge Developer.
@khobbits - Developer of Essentials, 10M+ Downloads.
LexManos - Developer of MinecraftForge and ForgeModLoader, with Millions of downloads.
@lukegb -Sysadmin Extraordinaire. Formerly a Bukkit Admin.
@Me4502 - Developer, Public Relations. Craftbook Developer (600k+ downloads).
@Mumfrey - Developer, Master of Mixins. Author of Liteloader (9 Million+ downloads).
@Owexz - Communications Coordinator, Support Lead. Former Spout Staff.
@Zidane - Sponge Project Lead and Sponge API Lead Developer. Former Spout Developer.
Minecon Meetup
Given that Minecon is the biggest event in the Minecraft community, I'm certain there will be plenty of you from the Sponge Community attending, whom we would very much like to meet. If you're going, be sure to let us know in this thread, along with any suggestions of what you might like the Meetup to be. (Dinner, park, riding a giant Sponge down the Thames, or even chilling out at your local FLARD factory!)
Sponsorships/Donations
Some of you may have noticed the little banner that has materialised on our homepage inviting companies and organisations to sponsor our project, given the release of the Sponge Dev Builds, we felt that with a concrete example of our work available many organisations may be interested in helping to build our platform. If your organisation is interested in sponsoring us, take a look at the link below:
For those of you who have submitted offers, we will be conduct an in-depth review of all offers over the next week.
As always, you can donate to us via our Patreon, everything you can give helps us a great deal;
Ore Status
The main developer of this project - @gratimax - is also one of the most busy on the team. Between preparing for our Minecon excursion, to keeping the peace on the forums, to helping manage the rest of the Sponge codebase, he's had quite a lot on his plate!
However, in the time in between, he's been able to fix some of Ore's problems and is currently setting up deployment. Soon the Ore development and test instance will be back up and running (and with no more data wipes)!
For those of you who don't know, Ore is Sponge's solution for the long overdue task of creating an open-source plugin service; a place where creators can come and upload their projects, to be easily accessible from anywhere in the world.
Ore is the future of plugin and mod management, and bringing up the rear as the base of its infrastructure, Sponge. We're truly attempting to live up to our Minecon Panel title: A New Era of Modding.
State of Sponge IV
State of Sponge IV will be held at 9PM UTC on Saturday 30th of May. You can check your local time here: Every Time Zone: time zone converter, compare time zone difference and find best time for a meeting with one click
As the first State of Sponge since the release of our Sponge Dev Builds, we're very excited to be able to show off the nifty plugins created by the community! As many of you have seen, there has been a flurry of activity with developers creating a great deal of plugins, libraries and tools for the Sponge Platform, which is exactly what we'd love to showcase this time around. We'll be selecting what we feel are the best plugins to demonstrate the power of the Sponge Platform, so the best way to see your plugin on the stream is to make something cool and innovative.

We hope to see you there!
As a final note, Happy Birthday to our amazing Dev Team Leader, Zidane!