It's been awhile since our last Status Update, we've been really busy getting ready for our upcoming Beta release. @Zidane has assured everyone that we will see the Beta before 2015 ends, so get excited! But first, check out Sponge interacting with Thaumcraft 5: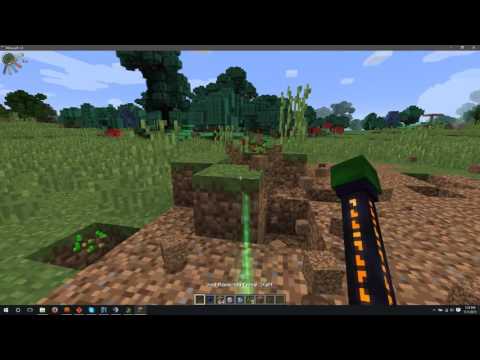 In addition, we have prepared the latest visualisation of all of our Git Repo for your viewing pleasure: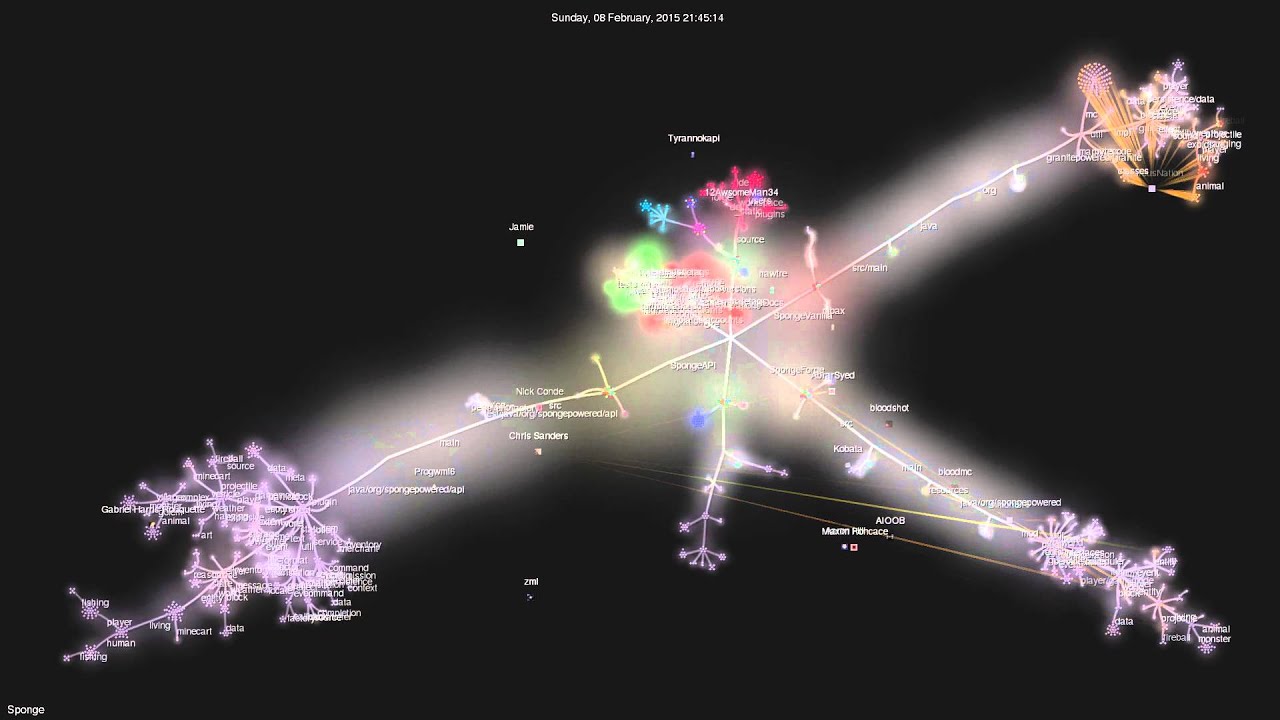 In other awesome news, we would like to welcome the Sponge Docs Team to their new position within the Sponge Staff. For almost a year now, the Docs Team has been doing an amazing job of making it easier for everyone to understand the entirety of the SpongePowered project. In recognition of their achievements, @Saladoc, @Tzk and @Zirconium have all been promoted to staff and granted Moderator status on these Forums. I would further like to thank the Docs Team Lead and Mighty Lord of FLARD, @Inscrutable for doing a fantastic job in getting the team to this stage! As you will see below, we have some big upcoming changes that the Docs Team will be helping out in.
Downloads
If you need help setting up Sponge, check out the Documentation here:
https://docs.spongepowered.org/en/server/getting-started/installation.html
[spoiler=DISCLAIMER]
SpongeForge and SpongeVanilla are both still in development and highly experimental. We encourage you to try the product but give zero guarantees of the stability and/or usability of it. If choosing to migrate existing worlds, WE HIGHLY RECOMMEND DOING A BACKUP FIRST. Additionally, we recommend performing frequent backups of the server in order to minimize damage caused by bugs.
These builds are meant to be used to test plugins in a production environment or to try out experimental features and/or bug fixes. If you have little to no experience with beta software, please do not use these builds. Once we feel that Sponge is stable enough for a release, we will make an announcement to that effect. We are not responsible for any permanent damage done to your server, software, and/or it's data.
[/spoiler]
Forums
Discourse or Xenforo? Have your say.
When we first started Sponge, we decided to take a break from the Xenforo/Flex scheme that is a mainstay throughout the Minecraft community. Obviously, there have been plenty of opinions on that matter, with people arguing passionately in favour of either software. Due to our upcoming Beta, this is the last time that the issue can be decided upon without becoming a serious pain to implement. As such, we would appreciate the community's opinions and input on this matter. Below we have a list of the advantages and disadvantages of each software as the team sees it (in no particular order), and what these mean for us as a project.
Advantages/Disadvantages of Discourse:
Used currently, no migration needed.
Open source under MIT
"Clean" Aesthetic.
Sets us apart from related forums.
Usedwidely across programming communities.
Not many plugins.
We have a few developers familiar with the software.
Advantages/Disadvantages of Xenforo:
Used widely across the MC community.
Wealth of plugins.
Many developers have experience with the software.
Resources plugin may be useful if Ore is not ready in time.
Everything would have to be migrated
Closed source – hard to modify further than plugin framework allows
Requires a license
Please comment on this thread with any additional thoughts and opinions that you have on the subject. While the final decision will remain with the team itself, we highly value all input that the community can provide.
Forum Cleanup
In preparation for beta, we are removing old and outdated resources on the forums in order to prevent confusion among new users and community members. Our fantastic documentation team has created comprehensive guides that supersede many of these older forum threads and as such, we would like to redirect people to these newer guides.
We greatly appreciate those who are eager to help out the community by posting a thread explaining some topic. However, if you wish to do so, we ask that you contribute to the Sponge documentation instead. Explanatory threads can become outdated quickly, yet can still discovered by people months after their creation. Posting explanations and tutorials in the documentation will make sure that they will stay updated and visible for all to enjoy; advancing our documentation so that more people can understand, work with, and enjoy Sponge.
We would love for as many people as possible to help out, through identifying old resources and reporting them to us on THIS THREAD, as well as submitting pull requests to the Sponge documentation here: Pull requests · SpongePowered/SpongeDocs · GitHub. You may also talk with the Docs Team at #spongedocs on Espernet IRC or on the SpongeDocs subforums
Development
Development has been steaming along recently, with the inventory implementation finally making some great progress, the finish line is in sight. The remainder of the Inventory API is almost done, meaning we can all focus on finishing off the Data implementation, Event implementation, and bug fixes. As it stands, we are still on track to enter beta phase by the end of 2015.
We would still love assistance in implementing the Data API, so if you have Java and Minecraft development knowledge, hop on over to https://github.com/SpongePowered/SpongeCommon/issues/8, and choose a piece of Data to implement and make your own!
Documentation
While we are on the topic of implementing DataManipulators, there's a how-to guide that may be helpful. It's one of many pages that have been completed recently by the diligent Docs staff, many thanks to Saladoc, Tzk, Gabizou, and Zirconium.
We are now trying to refocus on the completion of our basic API documentation to time with the imminent appearance of Sponge Beta. They should serve as a useful stepping stone to help developers create a cornucopia of new plugins, so if anyone else feels capable of writing some API documentation, now is the time to join us, join ussssss….
Web
Development on the web section of Sponge is ramping up again. Ore is staged at https://ore-staging.spongepowered.org/, so please hop on, test it, and report any bugs to the issue tracker. We are preparing for its release in conjunction with a beta of the Sponge server software.
Web developers and designers, please look out for announcements coming soon about how you can help contribute to the Sponge project's web presence. If you have web development experience, especially with Python and Django, or design experience, we'd love to talk to you about how you can contribute to Sponge. This also applies if you know anyone with web development or design experience. A more detailed announcement is coming soon, but if you are interested please send a private message to @gratimax on the forums. Thank you for all your support so far, and we look forward to hearing from you.
Subreddit
The subreddit has been given a makeover! Hop on over to https://www.reddit.com/r/spongeproject/ to see the new style. Post any feedback on the following reddit thread, https://www.reddit.com/r/spongeproject/comments/3qy47m/subreddit_makeover/
State of Sponge
State of Sponge VII will be on November 28th at 21:00 UTC, this will likely be the penultimate SoS before Beta, so get ready for an awesome demonstration of Sponge's usability.
As always, we will be having a Q&A session, be sure to post any questions you have below, or tweet them with the hashtag #StateOfSponge, the more questions you have, the better! As always, we will be running a Sponge server loaded with plugins for everyone to try out, we'd love for everyone to join us on it!
Join us at: http://www.twitch.tv/SpongePowered